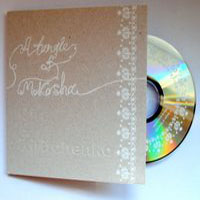 OJRA & Kiritchenko
A Tangle of Mokosha
[ nsp05 / CD ]
Nexsound and The Lollipoppe Shoppe present an ethnotronic collaboration of the neo-folk band Ojra and Andrey Kiritchenko. A Tangle Of Mokohsha is a 10 track album in which songs of pagan and Chiristian origins collected by Ojra in their ethnic expeditions through Eastern Ukraine infused on electronic music by Andrey Kiritchenko. These interpretations of authentic songs glister of versatile sonic palettes. Here one can distinguish ambient and electronic experiments, field-recordings of nature and bright sound of traditional instruments. This, without a doubt, vivid piece of work has ability to conduct the listeners imagination and to melt him/her down inside of the music.
Track list:
Svity Misyachenko
Volyky
Chi bulo lito
Luli-luli
Dva Holuby
Na Yordantsi
Kotyku sirenkyi
Na Ivana Kupala
Kohannya
Khata
About Ojra
Ojra is Ukrainian neo-folk band of four:
Halyna Breslavets – Voice,
Natalka Dudynska – Violin,
Petro Yuha – Solilka, Hulusi, Dvoyanka, Guitar
Yurko Yefremov – Bass, Dulcimer, Drymba, Kalimba, Buhay, Bayan
Halyna Breslavets is teaching Ukrainian folk vocal in Kharkov's State Academy of Culture.
Petro Yuha is a musician of Kharkov's philharmony. Natalka Dudynska – is a musician of Kharkov's theater
of musical comedy.
For the last 10 years the artists were collecting and researching Ukrainian folk music Ojra are laureates and participants of many folk, jazz and rock tenders and festivals. They collaborated with experimental theater Yara Art-Group and La MaMa/New York.
About Andrey Kiritchenko
Born in 1976 in Kharkiv / Ukraine and started his musical activity in 1991 as a singer / song-writer in a rock band. Active in fields of electronic music since 1996. Andrey is a cross-genre experimental sound artist combined acoustic and digital aesthetics, tiny melodies and noise. So far, under all aliases he released more than 40 albums on labels such as Staalplaat, Ad Noiseam, SPEKK, Zeromoon and Nexsound;
has over 50 compilation appearances on labels all over the world; performed through continental Europe, Russia and Kazakhstan;
had collaborations with Francisco Lopez, Kim Cascone, Sara Lunden, Jeff Surak, Kotra, the Moglass etc.; nominated and awarded by Qwartz Electronic Music Awards.
http://www.myspace.com/ojrakiritchenko
Ojra & Kiritchenko

© 2010 Nexsound
© 2010 The Lollipoppe Shoppe