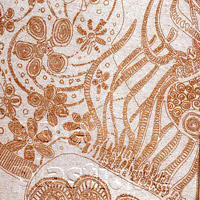 Nole Plastique
Escaperhead
[ nsp03 / CD ]
After having a succesful net-release by Russian band Nole Plastique "Sourire En Souriant [ns48]" and a great performance on Detali Zvuku festival in Kyiv / 2007, Nexsound is very happy to release their first full lenght CD called "Escaperhead". Nole Plastique was initially the project of Roman Kutnov, who lives in Kazan (Russia) and now it's Aleksei Belousov who joined the project in 2007.
During the last few years since 2004, Nole Plastique has produced several releases that one could call "romantic noise".
Nevertheless at the moment Nole Plastique is strongly attracted by songs and rather acoustic sound. Their music revealed softness of musical forms in an endless sound flow along the lines of the contemporary orms of psychedelic folk music.
Nole Plastique write about ESCAPERHEAD:
"We are very proud to entroduce you our first full-lenght cd released on wonderful ukranian Nexsound.
The album is called Escaperhead. So, be careful not to mix up its name with famous David Lynch's movie, haha. In fact, they may have something in common concerning the madness and other stuff…:)
It took us over a year to write, record and produce everything, rearranging, rewriting and reproducing the whole thing for several times… It was a hard work but the result is surprisingly easy, light and bright.
Escaperhead is a collection of strange songs and tunes with the flavor of 60-ies psychedelia, acid trips, lo-fi electronics, experimental sound design, improv-rock and other "sounds of the outer space" stuff in it. Too much may be, but that's the way we see the world sometimes, haha. The main idea of the album was to write some songs instead of experimental instrumentals more common for previous Nole Plastique releases. Unusual songs with our usual approach, you know…:) The second thing was to make a unique sound atmosphere. The sound of old psychedelic-rock records. Unmastered, hissy, detuned and very raw, with a bit of lo-fi in it. Yeah! 🙂 "
Tracklist:
Escaping
In Things Around
 Fantastic Yellow and Grey
 Blue Fries
 … Rolled In Slice
 Sunset Stipple
 Mixing, Shaking, Breaking
 Wavy Red
 In Case You Fall In Tired Fingers, Waste Your Glory
 Special Thanks To Sandoz Inc.
Visit Nole Plastique page on Myspace
© 2008 Nexsound
© 2008 Nole Plastique