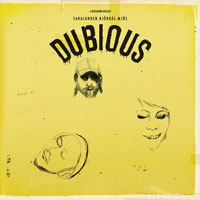 Saralunden.Björkås.Mjös
Dubious
[ nsp01 / CDep ]
Saralunden and Kyrre Björkås met 2002 in Riga when Sara was performing at an art exhibition. There was no sound engineer at the show but Kyrre, who was there working as an assistant to an artist from Norway, helped her out. A few hours later they were lovers. After Sara's first visit to Oslo at a show where Kyrre was singing "What a Wonderful World"(the old Louis Armstrong song) with a fantastic dark voice accompanied with music arranged by his friend Andreas Mjös, Sara knew that what she wanted the most, was to make duets with this Norwegian dark voice. The distance Stockholm-Oslo and their lack of money for the bus in-between, made the love story end sooner than it had begun, but their interest in each other did not end. Inspired by Kyrre's voice, Sara wrote three songs and they started to work together in Kyrre's room in Oslo trying to create a mutual sound on the computer. One night they met Andreas Mjös in a bar in Oslo. He said that he had some ideas how to produce the music. In early 2004 Andreas and Kyrre packed the Jaga Jassist van in Oslo full with instruments and two new songs that Kyrre had written for the project. They headed towards Stockholm and Sara's place, where they stayed for two weeks working day and night to record these five songs, that now Nexsound releases.
With two new releases Nexsound opens a new series of CDs – NEXSOUND PQP (pickup) which is dedicated to more accessible music than Nexsound usually has a passion to release.
Saralunden performance artist/ musician/ songwriter
DISCOGRAPHY:
There Was no End. Andrey Kiritchenko/Saralunden. Nexsound. 2007
Songs of the Freak. Shiny Ass Records. 2007
Sweet Sweet Sweet the Beat. Lobotom Records. 2006
I Will Sun and Spring You Down. Lobotom Records. 2003
This Is Not Desire. Lobotom Records. 2003
Turn Me over to the Devil. Make It Happen. 2000
Kyrre Björkås artist/musician
Plays with the norwigian band "Det är jag som är döden".
Their first album is released on the 17th of September.
www.myspace.com/detarjagsomardoden
Andreas Mjös producer/musician
Plays with the Norwegian band "Jaga Jassist".
PRODUCER DISCOGRAPHY:
Levi Henriksen/Thomas Mårud. Bang, Bang, Rett Ned. -07(Norskamerikaner)
Slagr.(tba) 2007 (NORCD)
Dinosau. A Little Crime. 2007 (Propeller Recordings)
Adjagas. Adjagas 2005 (Trust Me Records/Ever Records)
Alt for Norge. Soundtrack. Gebhardt og Mjøs, 2005 (Apache Records)
Susanna and the Magical Orchestra. List of lights and buoys. 2004 (Rune Grammofon)
Rotoscope. Great Curves. 2001 (Jester Records)
Kyrre Björkås (Det är jag som är döden): vocals, bass, violin, guitar, drums, synthesizers
Sara Lundén: vocals, glass, synthesizers, piano, organ, recorder
Andreas Mjös (Jaga Jazzist): vibraphone, guitar, drums, omnichord, violin, programming
Ida Lundén: synth bass on You Can Come
drawings by Sara Lunden. Cover by Henrik Lundström
track list:
Dubious
You Can Come
Naked In My Bed
The Sound It Makes
Murder
1 and 5 written by Kyrre Björkås
2,3 and 4 written by Sara Lundén
Produced and engineered by Andreas Mjös