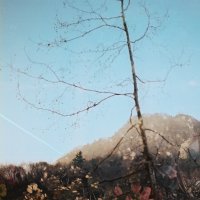 Riasni Drova Consort
Numberless Occupations Left Me Little Leisure
[ ns64 / mp3 ]
Riasni Drova Consort (Рясні Дрова Консорт) is currently a three-piece band consisting of Jaroslav Ilnytskyi, Andrij Orel and Oleg Vorobyov. Formed in 2010 in Lviv, Ukraine.
Jaroslav Ilnytskyi plays Baroque flutes, recorders, psaltery, saxonette, percussion and has been involved in early/Baroque music since the late 1980′s. A member/ex-member of such ensembles as "Excelsior", "Leopolita", "Vita Nova", "Greensleeves", "Lviv Minstrels"; also worked with "Silva rerum" and "Durham Baroque". His interests include the history of musical instruments and the psychology of musical performance. His work in Riasni Drova Consort is almost the reverse of his work elsewhere.
Andrij Orel does slightly enhanced trash-guitars, woodwinds and vocals. In addition to his solo work, he is also a member of free-noise collectives Noah Coward and Hokkei Quartet, as well as a collaborator with Moglass. Andrij has been involved in numerous performances with post-Soviet new music grandmaster Yuri Yaremtchuk and has recorded/performed with Ilia Belorukov, Oleksandr Fraze-Frazenko, Bruno Duplant, Paulo Chagas and others. He had also written some huge articles for Ukrainian underground music press, after which he went on to publicly make music which actively contradicted most of what he had written.
Oleg Vorobyov creates and plays guitar-based composites using a variety of self-invented techniques. Worked with Piotr Tabakiernik, Yuri Yaremtchuk and the theatre troupes "Arabesques" and "Kolo". His playing is heavily influenced by his family and friends, various improvised music, Chinese tea culture and football.
Tracklist:
1. I Thought My Children Were Sober
2. Seminar
3. Almost Scared With Cows
4. We Had Ninety-Six Dollars In All
5. Garbled In Galicia
6. Almost Sacred With Cows
Download full release
Play release
Cover photography by Taras Fedirko & Iryna Pasichnyk.
http://www.archive.org/details/ns_64
Mirror on Scene.org
Riasni Drova: http://riasnidrova.wordpress.com/
© 2011