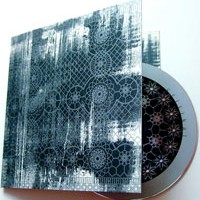 Critikal
Graphorrhea
[ ns60/kvitnu 4/zero008 / CD ]
The writing of long lists of meaningless words, as occurs in some manic disorders. Graphorrhea when utilized in artistic processes, is capable of producing 'original' results, especially if certain human-technical decisions help channel the process Critikal is an international dynamic project comprised of four
artists. Each new work is constructed by one member using sound material and structural concepts from the other members. This time the album was created by Dmytro Fedorenko, transforming pieces from Andrey Kiritchenko, Jeff Surak, and Tobias Åström.
Critikal was founded by Andrey Kiritchenko, Jeff Surak, and Jonas Lindgren, who left and was later replaced by Dmytro Fedorenko (Kotra) and Tobias Åström (Militant Fields).
The last Critikal festival appearances featured Dmytro Fedorenko and Andrey Kiritchenko with Jeff Surak live via video from his Washington DC studio.
Tracklist:
Tesseract Of Distrust (4:16)
 Scud Twitcher (2:48)
 Cheerful Nimiety (1:39)
 Rapture Periods (5:07)
 Sine Verbiage (1:19)
 Sonic Brood (2:49)
 Mind Opacity (3:24)
 Linear Fear (4:24)
 The Prime Seed (4:35)
 The Place Below End (2:40)
 The Truce (1:43)
Credits:
Dmytro Fedorenko – track constructions and arrangements, bass, drums programming, synthetics.
Andrey Kiritchenko – computer, acoustic guitar, field recordings.
Tobias Astrom – feedback/effects, manipulated recordings of long lost cities/memories.
Jeff Surak – autoharp, microcassettes, processing.
Mastering by Dmytro Volkov.
Cover by Ruslan Palamarchuk.
This is a co-release of Nexsound/Kvitnu/Zeromoon labels.
http://www.myspace.com/critikally