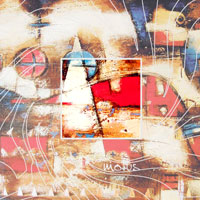 Alla Zagaykevych
Motus
[ ns38 / CD ]
Creative Activity:
1986 -1999 Participation in the folk Ensemble "DREVO" (National Music Academy);
1997 Creator of Electronic Studio of National Musical Academy of Ukraine;
1998-present Lecturer at the computer music technology
department at the National Musical Academy;
2000-present Partitipation in international and interdispiplinary projects (musical programming of electronic part of the project "Ziqquratu II" by the Lithuanian composer S.Nakas, creation music for audio-visual installations, films);
2003 Artistic Director of International project
Electroacoustic (Kyiv);
Awards/Scholarships:
1996 Stipendium Cite des Arts (Paris)
; 1998 Grant of International Renaissance Foundation for the Electronik Studio
; 1999 Grant of the President of Ukraine for performance of chamber opera "Numbers and Wnd" ("Drawings by Memory") after the poetry of M.Vorobyov
; 2000 Grant of the International Renaissance Foundation for the organization of International Musical workshops "TIME-SPACE-MUSIC"
; 2001 L.Revutsy's Award for chamber opera "Numbers and Wind" ("Drawings by Memory" ) after the poetry of M.Vorobyov
; 2003 Blaue Brucke International grant for multimedia project (Dresden)
; 2003 Bursarires of Visby International Centre for Composers (Studio ALPHA)
; 2004 O.Dovzhenko National Award for music for film MAMAY
Zagaykevych's compositions were performed by:
The National Symphony Orchestra of Ukraine, Philarmonic Orchestras of Chernigiv, Rivne, ensembles CAT, Archi, Frescos, New Performance, Cluster, Ricoshet, Kyiv Camerata (Ukraine), ensemle Court-Circuit (France), Ensemble Contemporain de Montreal, Kammersymphoniker (Austria), ensemble Recherche (Germany), J.Isaac, (recorders, live electronics), (Hollande).
Track list and participated performers:
1. PAGODE
for blockflutes, electronic recording and live electronics;
Jorge Isaac*, Venezuela/Netherlands
2. GRAVITATION
for 2 violoncellos;
Duo Violoncellissimo, Ukraine
3. HERONEYA
for violin, violoncello, bassoon, piano and electronic
recording;
Ensemble FRESCOS, Ukraine
4. MOTUS, electronic recording, computer
5. SANS L'ELOIGNEMENT DE LA TERRE
for violin, gitare and accordion;
CAT**, Ukraine
* Jorge Isaac began his musical studies at the age of six at the state conservatory "Sebastian Lozano" in Valencia, Venezuela, where he received private tuition for a number of years. Since 1991 and in the years ensuing, he has followed master classes held in The Netherlands, Germany and Switzerland. In 2000 completed his professional training under the tutelage of Walter van Hauwe at the Amsterdam Conservatory. In 2002 received his master degree on contemporary performance & live electronics at the same institution.
Isaac's specialist field is in contemporary music and the use of live electronics. He has won prices at renowned contemporary music competitions such as the International Gaudeamus Interpreters Competition 2001 in The Netherlands and the Krzysztof Penderecki International Competition of Contemporary Music in Poland (2001). In October 2004 he was awarded the first price at the Jur Naessens Music Award in The Netherlands with his multimedia production "Mensa Secunda".
** SERGIY OKHRIMCHUK, leader of CAT is violin – jazz, new improvisation music, contemporary music, autentic folklor music performer.
in 1997 graduated from the Kiev State Conservatoire. Creative
Activity 1990 – present – participation in the folk Ensemble "DREVO" (The National Music Academy),
1990-1997 participation in the Contemporary Acoustic Trio CAT new improvisation music , works with ukrainians composers
A.Zagaykevych, V.Poljova, S.Zazhytjko, D.Pertsov)
1993 1997- participation in the Jazz Ensemble BIOCHORD
1999 – 2000 – participation in the Ensemble of new music NEW OBJECTS
1999 2001 – participation in theatre and cinema projects: music for cinema of beginning of XX century
Faust, Nosferatu , music for theatre project Faust (producer.Lazorko)
2002 – present – lecturer at department of Early of Music the National Musical Academy
In 2000-2003 he participated in multi-media projects To Escape, To Breathe, To Keep
Silence and Motus-Cantos conducted by the composer Alla Zagaykevych
©2005 Alla Zagaykevych & participated performers
©2005 Nexsound