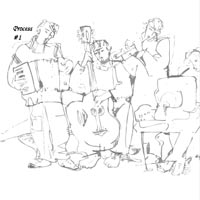 Process
#1
[ ns33 / mp3 ]
Process is a polymorphic (they always play in different staff) improvisation band from Krakow / Poland.
This time they are: Holubowski on accordion, Nazarewicz on flute, Drewniany on electronics, Mazur(core member) on bass guitar.
They play thick and deep combination of unprocessed acoustic instruments and electronics. Despite the fact that the project is quite young and started in 2004, Process played live quite often and always in stuff of open-minded and highly skilled musicians.
untitled ~20 minutes, 26 megabytes
cover graphics (V.Kotendgi)