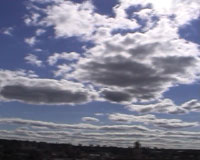 Arturas Bumsteinas
Retorta ver.1
[ ns32 / mp3 ]
"Charging" was made from small sounds deriving from random techno tracks those were found lurking in the hardisc of my computer. Also additional layers of sine waves and close-up microphone sounds were included. "Charging" was recorded in one-day recording session (2003/08/?).
"Opsound" was premiered in Launch Option Berlin fetival in BuroFriedrich Gallery (2003/07/24). This composition was part of audiovisual performance "Low" by G-Lab.
"Moc Art" is a composition concisting from field recordings, sounds generated on computer and saxophone part performed by Liudas Mockunas. Mockunas is a prominent improvized musician living in Lithuania and Denmark. Final overdub of "Moc Art" was done in the studio of Lithuanian National Drama Theater (2003/09/01).
"Uonsed" uses wide spectrum of sounds from: old Russian synthesizer Polyvox, tape noises, sine waves, turntable sounds by Dj Pitt, voices from Antiradical Opera collective. Composition done in summer of 2003.

Tracklist
* with Liudas Mockunas on saxophones