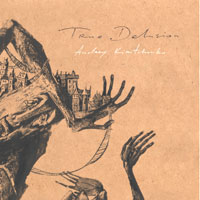 Andrey Kiritchenko
True Delusion
[ ns30 / CD ]
Andrey Kiritchenko is a person known among Ukrainian experimental music fans as a TV and radio DJ, author of projects like Critikal, Sidhartha, NEX, founder and co-runner of Nexsound records, musician who has largely contributed into the development of electronic music scene in Ukraine and already considered as one of the premiere experimental artist from Eastern Europe.
Being involved mostly in experimental electronic and electroacoustic music for the last few years, Andrey is now gaining recognition among the musicians and followers of this style all over the world. His activities range from glitch with blurred beats to electroacoustis experiments, from improv to musique concrete, from drones to microsound.
About:
"Ten months passed between conceiving the idea and the beginning of experiments with minimalist harmonic overtones made with acoustic guitar in the beginning of 2004 and the end of work on True Delusion album in late 2004.
The first six of them were the months of thinking and contemplation, traveling and trial recording of instruments in habitable rooms and kitchens, recording and auditing of rural nature sounds by night and by day.
The very idea was simple at first. I meant to play the guitar experimenting with minimalist harmonic overtones. Meanwhile I tried to take deep rhythmic breaths timed with guitar sounds. The result was almost meditative, as the guitar buzzing sound was slowly fading out and the body felt close to hyperventilated. However, in view of my desire to further progress with composition, I decided to go beyond repetition and minimalism.
Later the album progressed in terms of the similar use of the piano. It was not exactly harmonic overtones, but the sound was slow, melodic and minimalist, so the album can be conventionally divided into two parts."
Reflections:
"There are events and occurrences that are the same in essence and yet have their own conceptual notion when placed in a certain context. Thus, for
instance, if a man watches the dusky sky for a brief moment without being told the exact time of the day, he is unable to say whether it is a sunrise or a sunset. The true reason of this is the dual nature of all things and events that occur to a man, and his constant attempts to find sense and interrelation in them. However, it often happens that without having an access to the information about the context (or being misinformed), a man has a limited perception of things and gradually comes under the influence
of illusions that begin to change his life."