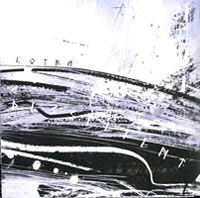 Kotra
Dissilient
[ ns27 / CD ]
a new album by Dmytro Fedorenko aka KOTRA has a new turn in his sound investigations. The new album actually based on his precise digital noise found – sound we heard in STIR MESH album and Fourfold Symmetry (together with Kim Cascone, Andreas Berthling and Andrey Kiritchenko) project released by Nexsound in 2002.
DISSILIENT is more improvised, more structural complex, more powerfull and more fascinating. DISSILIENT means starting asunder; bursting and opening with an elastic force; dehiscing explosively; as, a dissilient pericarp. Dmytro was born in 1977. Studied mathematics at National University of Ukraine and classic guitar at music school in Kyiv. Started making music in 1994 as bass player in jazz-noise band. In 1996 Dmytro found noise duo Zet and made a series of performances with independent visual artists and videomakers in Kyiv. During 1997-1998 Dmytro participated in several video-art, net – art and interactive workshops in Soros Center for Contemporary art in Kyiv. In 1998 after Dmytro left Zet he started his solo project Kotra. Since that time Dmytro released 6 full length albums, has worked with Andrey Kiritchenko, Kim Cascone and Andreas Berthling, Kotra's tracks were released on different compilations in Europe, USA and Ukraine. Dmytro also made music for miscellaneous interactive cd-r, web and video projects together with Akuvido group. Those projects took part on such festivals around the world as Kryptonale, EMAF, Villette Numerique, Netmage, Videoex, [d]vision and many more.
In 2003 Kotra played live on Clubtransmediale festival in Berlin, Garage festival in Stralsund.
01 minus
02 minus
03 minus
05 minus
06 minus
07 minus
08 minus
09 minus
10 minus
11 minus
12 minus
13 minus
14 zero
15 plus
16 plus
17 plus
18 plus-minus
19 minus-plus
20 minus
21 minus