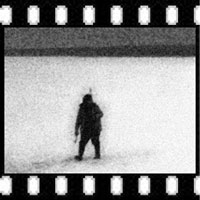 Oloolo + Derek Holzer
Kosta
[ ns22 / mp3 ]
Album "Kosta" is a product of international collaboration between Oloolo from Latvia and producer / sound designer Derek Holzer from Holland. This improvisational record was created in "Karosta" center of culture in Liepaja / Latvia on January 4, 2003. Maksim Borisov joined the artists in a few tracks with "casio" children toy synthesizer
and early digital fx processor "lm-1229". Bones and various gifts of the past found on the seashore of the ex-military base of "Karosta" served as a sound source for Derek Holzer, who sampled sound through those objects with different microphones. Oloolo processed samples in real time on two prepared pc.
Kiryll Lomunov and Rodion Zolotarew aka Oloolo: samples, computer sounds, recording and post-production,
Derek Holzer: objects, field recordings and manipulations
Maksim Borisov: keyboards, analog electronics.
Oloolo www.oloolo.tk
Derek Holzer www.umatic.nl
special thanks to K@2, Carl Biorsmark, Kristine Briede, Anna Laine and Maksim Borisov.