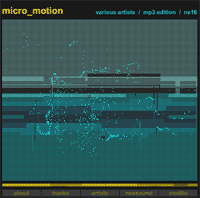 v/a
Micro_Motion
[ ns16 / mp3 ]
This compilation is filled with Byelorussian microsound related scene that was discovered by Nexsound on ELKA 2003. festival held in the capital city of Byelorussia – Minsk. Various artists here to present very nice chilling music for your pleasure and deep jorney through rewarded listening. These artists have their own matured sound that in general perfectly fits onto our'environmental music' statement.
Be advised about I/DEX full length CD release named Seqsextend on Nexsound.
Headphones is highly recommended.
I/DEX (Vitaliy Harmash) – He has been interested in music since his early childhood when Vitaly was playing with his father's guitars and twiddling knobs of self-made effect boxes. Having previously released music under Harmash, Mystique and Speculum, he started to make analogue music since 1993 using synths, microphone and drum machine, then using field recordings and radio noises, then Sony PlaystationTM, and now a laptop.
h.h.t.p. (Andrey Savitsky) – Since a year 1990 he was working in a field of photography for quite a long time. During this period he took part in the exhibitions done together with the Belarusian photographers in the Gallery of Arts, Sopot, Poland (1993); Nova Gallery, Palace of Arts, Minsk, Belarus (from 1990 to 1995) and Eindhoven, Holland (1995, 1996, 1998). Some of his works became the part of Nancy Dodge Collection, New York. At the same time he has worked in a field of visual support for the musical
groups and the rave parties, doing the slide-shows, video-projections, VJ-ing in Belarus and Holland. In 1995, 1998, during the cultural exchange Minsk – Eindhoven he had done some shows at Eindhoven clubs. Since the appearing of modern multimedia he started to use it actively in his works. Now his professional work lies in the field of graphical and web design. In his creative, art activity he uses all the modern means of expression: video, sound, interactivity. Since year 2000 artist releases his works under his own label h.h.t.p. The aim of his work under his own label is to explore the process of understanding and comprehending the modern technologies in the human life and environment.
-ED (Eugene Smozhevsky) – Musically active since 1989 as a guitar player and as a singer in local chorus. Active in electronic music since 1996 in Dullgreen project opening an exhibition of avant painter Ludmila Rusova, frequently performing in Minsk. As -ED and Dullgreen participating in various compilations such as Smeels Like Electricity,
Overdoze, Deltaphonica on Delta9, Segmentation on Segment Records, SEB and ELKAmpilation on Gizmo-lab / Zavod Kubik.