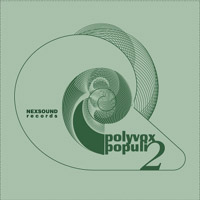 v/a
Polyvox Populi 2
[ ns14 / mp3 ]
designed by Alphonse de Montfroyd.
Click here to get PDF file.
Nexsound is glad to present second edition of Polyvox Populi compilation, this time in mpeg layer 3 format free for downloading and fulfilled with IDM, microsound, experimental, post-rock music from ex-USSR countries. This includes famous EU (Eloshnye Igruski), Klutch and Tenzor from Cheburec records, Novel 23 and Ambidextrous from Shaped Harmonics,
Uni from Kohvi, Oloolo and Elpa from Kolka, Brompton's Cocktail from Fulldozer, Peel off the Bass from Quasipop records, freelancer h.h.t.p. and of course Kotra, the Moglass, Alphonse de Montfroyd, Infra Red Army and Andrey Kiritchenko from Nexsound.
These artists release their CDs on Pause_2, Lo rec, Delikatessen, Neo Ouija, Merck, Pitchcadet, BiP_HOp, Ad Noiseam, DTA and many others.
total playing time: 74:40
size: 102 Mb