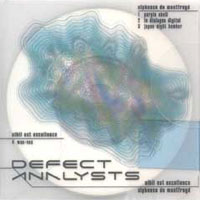 Alphonse de Montfroyd / NEX
defect analysts
[ ns09 / 3"CDr ]
"Defect Analysts" split release of alphonse de montfroyd and nihil est excellence. First half of release brings calm and composure, serial music (#2), and ancient japan music (#3) in terms of processed digital sound. Second half comes with persistent events and occasionally dronning torrent of processed enviromental sounds. Everything flows, everything changes.
package: full color printings on transparent/dull sleeves.
track list:
alphonse de montfroyd
nihil est excellence
alphonse de montfroyd :
Alexey Pilipenko – graphic designer from Kharkov/Ukraine. Studying music for five years in classique guitar. He doing music since 1991 and electronic music since 1999.
First mention about Alphonse de Montfroyd we found as instrumental band (violin, guitar, flute, percussions, singer, etc.) that played music in style of XIV and XVI centuries with woman vocal on ancient french. In this band Alexey Pilipenko was a composer and guitar player. But since all collective disperces, he start making music under Alphonse de Montfroyd alone.
nihil est excellence:
has currently one member – Andrey Kiritchenko. Active since 1991, making electronic music since 1998 also under Sidhartha, and own name; was dance-floor and radio dj, made a tv show; now holds Nexsound label.