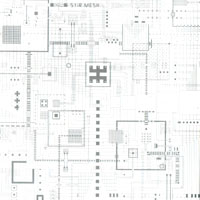 Kotra
stir mesh
[ ns07 / CDr ]
artist: kotra
lives in city of kyiv (ukraine), active since 1996 this is his cd nr.4
music: extremely precise digital manipulation of sound. a new and innovative look at the glitch music, with touch of minimal techno, post industrial, clicks and cuts. definitely obscure and bizarre. groovy and sometimes even melodic.
Sleeves with exquisite design by akuvido.
Stir Mesh video made by Akuvido is now available on YouTube.
http://www.youtube.com/watch?v=Zme1vlq5Hic
bio: Kotra is one man (Dmitriy Fedorenko) project
formed from ukrainian "Zet" band, and known for its soundtracks for video films and interactive projects with AKUVIDO formation.
discography:
fourfold symmetry – [ 2002, nexsound ] cd
stir mesh – [ 2002, nexsound ] cd
tek – [ 2000, stan rec ] cd
icon – [ 2000 ] cd
vert – [ 2000, grief rec] cd
iola – [ 1999, moon rec, mn-142 ]
lement – [ 1999, moon rec, mn-132 ]
other interactive and video projects with akuvido:
– There is no impasse in electronic music nowadays, saying Dmitry Fedorenko of Kotra, everything is fine with it. The bad thing is that it still is being proffered and being percived as something elitistic, leading, important and solely correct. Glitch became the part of mainstream, before it was born and formed as single term and genre. Even scholars make noise music. There is no front line. Only a huge scattering of any possible audio flares with different brightness has left. Brightness.