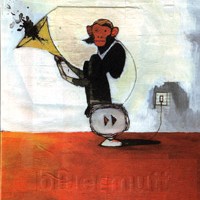 Bluermutt
Decivilize after consumption
[ nsp04 / CD ]

After having a successful net-release "When I'm Not" on Nexsound, Bluermutt continues to move in the direction of melodic collages and groovy compositions. With vocals by Fredo Viola, Steph Thirion and Linn Rasimelli he made a splendid record that incorporates such things as ease and availability of pop music but still is a fascinating listening.
With this album Nexsound continues its new series of CDs – PQP (pickup) which are dedicated to more accessible music than Nexsound usually has a passion to release. PQP albums dwell on the edge where experimental and pop music meet together.
Bluermutt about himself:
picked up his name from a list of suggestions generated by ebay and just recently discovered that the word "mutt" means "a person regarded as stupid or incompetent".
 lives in Barcelona, that is a really nice option if you don't wanna be freezing in Berlin or you're waiting for New York to be incorporated in Europe.
loves layers and he's getting better at handling them, still dreams of Matmos mixing his music though.
started to make music with samplers to sound like De La Soul.
is 25 but looks like 13, maybe 15 with beard.
doesn't make art, just assembles sounds together till he's satisfied.
likes ever-changing things that can be read in many ways, like David Lynch movies or Paul Auster's books.
loves dancing and obviously digs some kind of electronic music but still thinks club culture is a really dumb thing.
changes his mind frequently, to behave accordingly to fact number 7.
makes better music when joined by Lucz, the other 1/2 of Mickey Eats Plastic.
Tracklist:
welcome to a bluer blue sky
fashion arithmetics
old school lesbians vs. the 21st century
one body – no head
self approach
fukikin' Jimmy from here
Jimmy coda
before going to bed
metallic concepts for D and M
the diapason's uncertainties
daily explosions
more about him later
Decivilize After Consumption microsite
http://www.myspace.com/bluermutt
© 2008 Bluermutt
© 2008 Nexsound