Andrey Kiritchenko
Chrysalis
[ ns68 / 12" / DL ]
Chrysalis is a state in which one creature naturally transformed in an almost completely different being, while remaining within the cocoon. The idea of this transformation in time, when living creatures are left virtually nothing from the previous condition, is very inspiring. In this album sound of acoustic instruments and electronics flow into one another, dissolve in devolution, decay in a space of interactions. Rebirth.
About:
Andrey Kiritchenko known as author and contributor of various critically acclaimed projects, founder of Nexsound records, producer who has contributed his significant share into the development of electronic music scene in Ukraine. Born in 1976 in Kharkiv / Ukraine. Involved mostly in experimental electronic and electroacoustic music for the last 10 years.
So far he collaborated with Francisco Lopez, Kim Cascone, Martin Brandlmayr(Radian, Trapist), Anla Courtis, Jason Kahn and others. Under all aliases released more than 40 albums on labels such as Staalplaat, SPEKK, Ad Noiseam, Bip-Hop, Neo Ouija, etc. Awarded by Qwartz Electronic Music Awards. Participated in Ukrainian exhibition on the 52th Venice Biennale.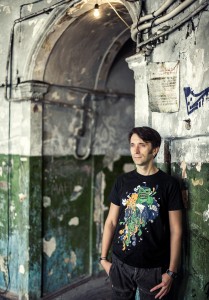 side A:
01 Vortex Singular
02 Quasi Religious
03 Fly Above Where Leaves Do Not
side B:
01 Momentum Derive
02 A Sack Of Winds
03 Drifting Views
Credits:
Composed, produced, mixed by Andrey Kiritchenko 2011-2012
Artem Amstibovskiy – Clarinet
Gendel Krechkovskiy – Double Bass
Natalia Dudynska – Violin
Designed by Empty House
Distribution
Germany: http://www.minimamedia.de and http://www.a-musik.com UK: http://www.normanrecords.com/ and Belgium: http://www.outofprint.be/