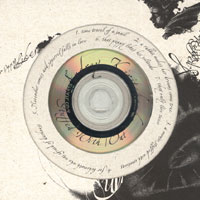 Andrey Kiritchenko
Stuffed with/out
[ ns51 / CD ]
With this new album Andrey continues to explore the music space that was build in his previous album True Delusion. This time he uses guitar, mouth harmonica, field recordings, objects and computer processing. Being influenced by (psycho) folk he creates warm "homemade" sound environment for the listener to follow. Hiss, insects, 3-4 notes guitar melodies, mellow drones and digital processing make every track a little story about stuffed animals.
Andrey Kiritchenko is a person known among experimental music fans as author and contributor of projects like Critikal, Sidhartha, NEX, founder of Nexsound records, curator of Detali Zvuku festival, musician who has largely contributed into the development of electronic music scene in Ukraine and already considered as one of the premiere experimental artist from Eastern Europe.
tracklist:
timetravel of a snail
 a rabbit makes her dreams come true
 a mouse stuffed with emotions
 for behemoth who was afraid of darkness
 november comes and squirrel falls in love
 that puppy likes his solitude
 they only live twice
Started his musical career in 1995 as singer, song-writer and guitar player. Being involved mostly in experimental electronic and electroacoustic music for the last few years, Andrey is now gaining recognition among the musicians and followers of this style all over the world. His activities range from glitch with blurred beats to electroacoustic experiments, from improv to musique concrete, from drones to microsound.
So far he collaborated with Francisco Lopez, Kim Cascone, Jonas Lindgren, Jeff Surak, Kotra, Mantichora, the Moglass etc., remixed by Frans de Waard, Brian Lavelle, Scanner, Marcus Maeder and 833-45, under all aliases released more than 30 albums on labels such as SPEkk, Ad Noiseam, Nexsound, Zeromoon, Staalplaat, etc.; in 2006 nominated by Qwartz Electronic Music Awards in categories Discovery and Most Promising Artist, awarded in category Discovery.
© 2006 guitar, mouth harmonica, field recordings, processing by Andrey Kiritchenko
© 2006 design by Olga Indovina
© 2006 nexsound